My Destiny in Your Hands
Brazilian title
Meu Destino em Tuas Mãos
Directed by
José Mojica Marins
Produced by
Augusto Pereira
Written by
José Mojica Marins
Starring
José Mojica Marins
Franquito
Music by
Herminio Giménez
Cinematography
Ruy Santos
Editing
Maximo Barro
Genre
Drama
Release date
July 8, 1963
Country
Brazil
Length
80 min
Language
Portuguese
Preceded by
Followed by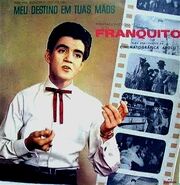 My Destiny in Your Hands (1962) (original title: Meu Destino em Tuas Mãos) is a Brazilian drama film written and directed by José Mojica Marins[1].
Censorship hurt the film, the Brazilian government banning it for 14 years, and the film was forgotten and was a commercial failure. The character Carlito (played by Brazilian child singer Franquito) was modeled after the successful Spanish child film character Marcelino (played by Pablito Calvo) after the successful Spanish film Marcelino, Bread and Wine (1955)[2].
Mojica composed three of the ten songs performed by Franquito[3].
Please improve this plot summary by expanding it.

A husband comes home drunk and beats his wife. His son Carlito tries to defend his mother with a broomstick. The father turns to the boy menacingly and threatens "I'll kill you!". Terrified, the boy flees with four other young children, all poor and suffering abuse and exploitation at home by their families. The children try to live and survive life on the streets on the outskirts of São Paulo.
Carlito (Franqito), the eldest of them, plays guitar and sings to make money.
Franquito as Carlito
Aurino Cassiano as Crispim
Nilton Batista as Robertinho
Delmo Demarcos as Luiz
Nivaldo Guimarães as Quinzinho
Augusto de Cervantes
Screenshots
Edit
Main article: My Destiny in Your Hands: Screenshot gallery
References
Edit
External links
Edit
Community content is available under
CC-BY-SA
unless otherwise noted.